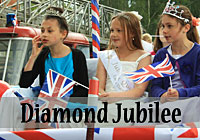 Excerpts from video coverage of events in the village during celebrations of the Diamond Jubilee of Queen Elizabeth II, a glimpse of a full film show which was held at the Village Hall on Sept 22.

The video programme will shortly be available as a widescreen DVD for television. Advance orders are being taken at www.stewkleyfilms.org

Coverage was filmed for the Stewkley Film Archive by John Flewin and Geoff Ring, with a short sequence courtesy of Claire Munday.